Forensics host a competition at Northwest on March 29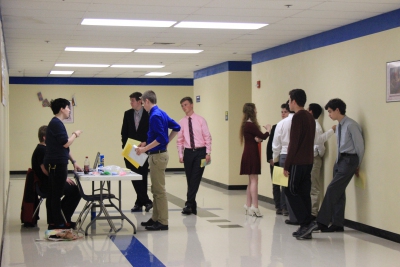 Many area high schools came to Northwest to participate in a forensics competition on March 29. In this competition, participants could choose to partake in a mock student congress or in a script of their choosing.
The stakes are high in this competition, as only two students per district in each event can go to Nationals.
"It can be really hard there are a lot of really strong speakers, like the people who get presidential scholarships," Maize South competitor Jessica Tongue said. "This is also one of the things where you can go to state or nationals, but if you want to go to nationals it's very hard."
Forensics is a semester class at Northwest. It is a mixture of debate, drama, and speech where a student can choose to learn about all three skills or just one. Senior Whitney Clum,who helped host the competition Tuesday,  sees forensics as a skill that has helped her organize her thoughts and become a better public speaker.
"Some people do sports every week, some people do choir practice; I do forensics and debate," Clum said. "It's something that I do every single weekend. I go home [and] I practice. It's just like any other thing; you're only as good as you really want to be and how much you practice."
Forensics also teaches students how to appeal to different kinds of people and how to become more persuasive. Said skills may be an advantage when it comes to a college or job interview.
"You can just come across as very well spoken no matter who or what it is," Clum said.
With all the infamous Kansas education budget cuts, Forensics may be the next target. Tongue stated that she believes Maize is not planning on eliminating forensics.
"A lot of schools are cutting it, but hopefully those schools will still offer it as an afterschool activity because it's important," Tongue said.
Forensics tournaments are unique in the sense that competitors are independent in their performances, which causes a more difficult yet friendly competition.
"[There's] such a friendly attitude," Clum said. "With Northwest it's even better because our old coach is married to the Curtis High coach. For a while there we would take car trips together and we still had a pretty close relationship. But the majority of the people in forensics are really nice people."
Forensics is often compared to debate due to the overlapping of teams, but they are separate competitions with significant differences. Clum compares the two to Obama and Putin shaking hands.
"They were like 'We're shaking hands' and at the same time they're like, 'I'm going to kill you.'"
The atmosphere and efforts made by the participants of the two competitions are also different.
"Debate is so intense and you're face to face arguing," Clum said. "In forensics you're not even seeing the person you're competing against. There's nothing you can do other than your own individual performance to outdo anyone else."