Northwest earns 2nd in Cooking up Change competition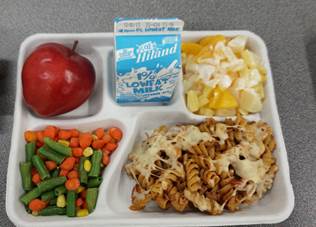 Three students got the chance to transform school lunches. Their challenge was to create a meal that was both healthy and delicious, following competition rules and nutritional guidelines.
Senior Kim Wong, junior Nicole Shartzer and senior Jakob Landess took 2nd place at the Cooking up Change competition held at Heights on Dec. 1. The team only fell short to South, who won a trip to Washington D.C.
Landess was disappointed by the loss but respects the winners of the event.
"Mrs. Draut is really good friends with the teacher there," Landess said. "I tried their food and it was actually really good, so it didn't really make me that upset. But it would have been fun to go to D.C."
The Northwest students created a three part dish that they presented to the ten judges.
"It was a pasta ragu," Landess said. "It had beef spiced with garlic powder and seasoning it had onions in it. Then our fruit dish had pears, peaches, and pineapples mixed with an orange juice. Then our vegetable medley with corn, green beans mixed with black pepper and garlic powder."
The students spent weeks preparing for the event.
"We spent a month and a half in our culinary arts class coming up with all the dishes and making them five or six times just to perfect them," Shartzer said. "We had to turn in four different recipes that were all pretty much the same, but we had to tweak them to meet all the guidelines. Finally by the fourth time, we got it perfect."
This experience took Wong on an emotional roller coaster.
"I had lots of homework and I'm involved in theatre so I've been staying at the school until eight or nine," Wong said. "I was super tired that day. I was nervous. Once we presented our dish to the judges, I felt pretty confident."
Even though they didn't take first, instructor Alison Draut is still proud of her students.
"I thought the kids did a great job," Draut said. "They earned 2nd place for doing all the calculations on nutrition and figuring out all the budget prices. They did all the work. They tested on the preschoolers and the toddlers here and they represented Northwest very well."