WADECA Results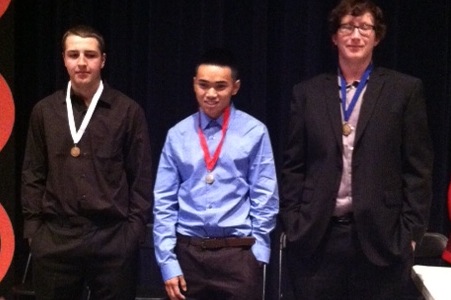 Several Northwest students attended an all-day competition at Newman University for DECA and 26 returned placing in the top 5.
Wichita Area DECA competition (WADECA) took place on Oct. 16 and had several categories for students to compete in. Senior Malcolm Graham competed in Automotive Services Marketing and was one of four students who returned with first place.
"Basically you pick an area of business you want to compete in and you're given a scenario– a roleplay– where you act like you're pitching an idea," Graham said, "And then you go after that and take a test."
DECA students will have other competitions to participate in later in the year, but this competition does not determine their eligibility to compete.
"It doesn't really mean anything," Graham said, "it's just a 'hey you did a good job' sort of thing. It's just a practice."
The following Northwest DECA members placed in the top 5 in the Wichita Area DECA Competitions:
Marketing Management
Georgia Anderson-3rd Place
Matt Colborn-5th Place
Retail Merchandising
Louise Babb-1st Place
Bria Tucker-4th Place
Food Marketing
Pazia Bledsoe-4th Place
Kylie Harris-5th Place
Apparel and Accessories
Marissa Haugen-1st Place
Kaylee Clark-5th Place
Principles of Marketing
Sage Williams-1st Place
Lenore Warne-3rd Place
Katie Darnell-5th Place
Sports and Entertainment Marketing
Agustin Mariscal-3rd Place
Dylan Gates-4th Place
Drew Darr-5th Place
Human Resource Management
Maggie Dungan-2nd Place
Nate Listerman-4th Place
Business Services Marketing
Colton Tucker-3rd Place
Jamie Gallagher-5th Place
Automotive Services Marketing
Malcolm Graham-1st Place
Restaurant Full-Service Management
Broc Headley-3rd Place
McKenna Martin-4th Place
Carson Quillen-3rd Place-Principles of Hospitality
Accounting
Angel Santana-5th Place
Quick Service Restaurant
Amanda Underwood-3rd Place
-Hotel Lodging Management
Kyle Wegleitner 3rd Place
Nicole Watson-5th Place