Local talent
Trevor Stewart performs at the Doughnut Whole on Sept. 24.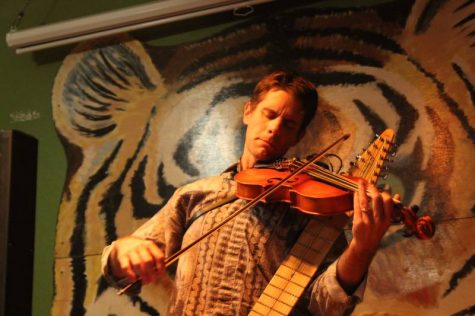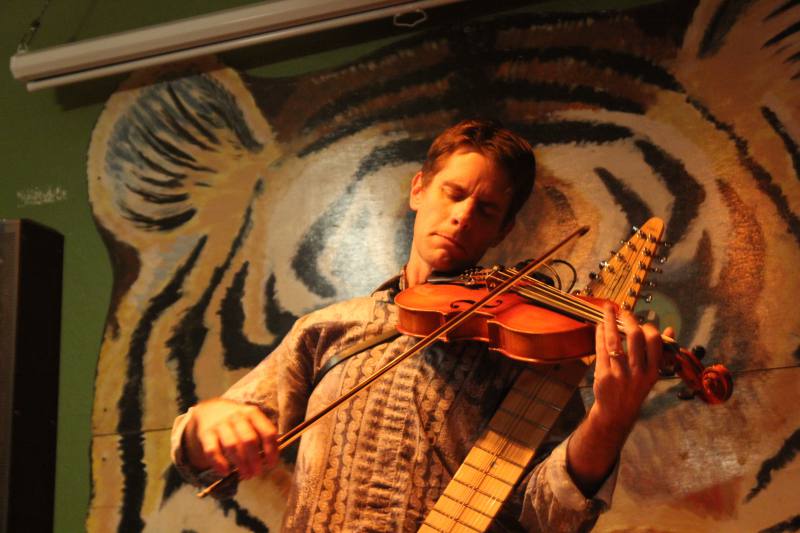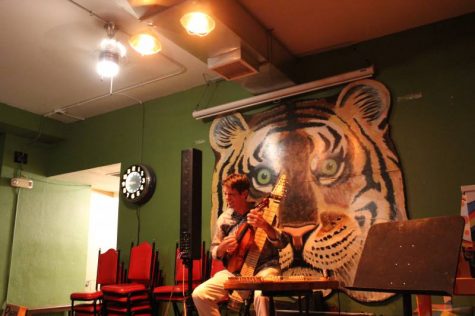 Most people spend their musical career focusing on one instrument. But 40 year old musician, Trevor Stewart mastered three unique and intricate instruments and played them at The Doughnut Hole on Sept. 24.  These three instruments are the viola, the chapman stick, and the hammer dulcimer
"I'm not a good singer so I want to incorporate as much other stuff as I can," Stewart said. "If it's got strings on it I'm pretty good. But if I have to blow into anything that has a reed or is a flute I'm pretty lost."
Raised in Haysville, Kansas, Stewart studied the viola at Wichita State University and played in the Youth Symphony. The main instrument he plays is the chapman stick, that he received when he was 22 years old.
"I knew that was what I wanted to pursue but there was really no room in a symphony to play the stick, at least not yet anyways," Stewart said.
Stewart's plan for the future includes playing a vast type of genres at coffee shops like The Doughnut Hole.
"When you [play] weird instruments everyone wants to hear different stuff, so I will never stick with one thing, that's just not who I am," Stewart said.
Stewart's main job is at a medical lab run by Via Christi. But on the side, Stewart also teaches children at schools, through art partners, of these different instruments to widen their music capabilities
"We go into mostly elementary schools I will bring in stuff from around the world and try to get the students to create a new song," Stewart said.
This was the first time Stewart performed at The Doughnut Hole and said it won't be the last time because he enjoyed expressing his love for music for people that appreciate his work.
"For me music is like a prayer or a meditation, and I will meditate before to make sure the mind is clear," Stewart said. "Music exists in it's own world if you allow it to."