Northwest mourns loss of wrestling coach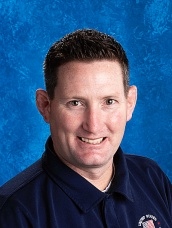 1974-2020
Eric Prichard was born on May 4, 1974 and passed away on October 20, 2020. Eric was a part of the Grizzly community for more than 18 years and coached numerous sports, including baseball, football, and wrestling, along with being a social studies teacher. He touched the lives of many. Coached by Prichard, Northwest won city-league championships in wrestling four years in a row.
"He was a fiercely loyal person to those around him and was a great father to his kids and husband to his wife, Erin. His laugh was infectious and he was nearly almost full of joy," said his close friend, and assistant coach, Ron Russell.
Known for his competitiveness and positive attitude, he will be greatly missed.