Senior Emma Wingert named National Merit Scholar Semi Finalist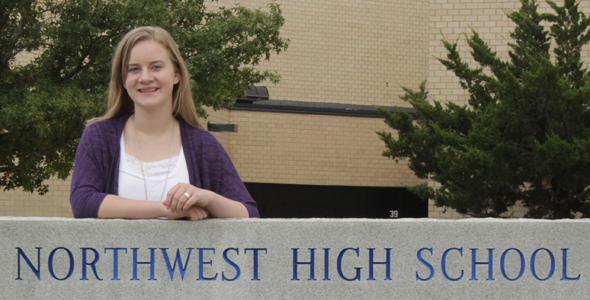 Every year there are a little over sixteen hundred students that are National Merit Scholar nominees. This year senior Emma Wingert a semi finalist.
"I was really relieved when I found out I was a finalist, I knew I had a shot when I found out how high my PSAT score was," Wingert said.
To get nominated as a Merit Scholar, students take the Preliminary Scholastic Aptitude Test (PSAT) during their junior year and must score in the top half percent in the state. Sixteen hundred students go into semi finals, and become a finalist can get scholarship opportunities.
"I didn't know about this Merit Scholar competition until sophomore year, I looked into it and thought I would have a chance since my PSAT score was high," Wingert said.
English teacher Andrew Davis, one of Wingert's teachers explains how he is not surprised that Wingert got nominated, he feels to get the award, you have to be inquisitive, hardworking and a desire to learn–all of which he feels Wingert possesses.
She is involved in orchestra, volunteering at an autism camp, student senate and NHS.
"Mr. Davis has helped me a lot with essays and Mr. Woody has helped me a lot with grammar, vocab and seminar," Wingert said.
In addition to her teachers, Wingert's influences have been her parents because they placed a high value on learning.
Wingert plans to go somewhere for her undergraduate degree, she plans on going to Butler Community College to study early childhood development so she can be an occupational therapist in the future.
________
Words by Alexis Ramos|Event Coordinator