Traveling teacher finds classroom to call her own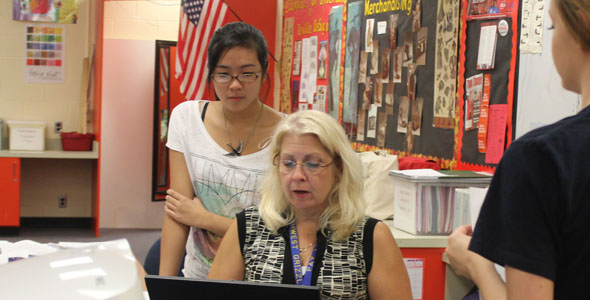 For four years FACS teacher Pat Lynch was a traveling teacher. She did not have a classroom to call her own. She had to move from classroom to classroom with her necessary supplies in tow on a cart, or multiple carts. This year she finally has her own classroom.
After four years of waiting and asking, Lynch was finally given her own classroom in the E Hall. Lynch believes that it may have something to do with how disappointed she was at the beginning of last year and the suggestions she made to fix the problem.
"I was going to build my own classroom outside," Lynch said, "I thought it would be a great inservice project. So I went to Mr. Lynn and Mr. Cotton and suggested that we could just ask everyone to bring some two by fours and some wires and we could construct a room for me. I think most people took it as a joke, but I was being quite serious."
After her idea was shot down, Lynch began to look for other solutions to the problem. She was even starting to go to the most extreme before her classroom amount was lowered and she was finally given her own classroom this year.
"I felt that maybe the situation was suggesting that I needed to move on to another school," Lynch said, "so I started seriously looking for another school."
Lynch did not get too far in her search before she was helped. She came back this year to her very own classroom. This new classroom comes with plenty of advantages for Lynch, and even some disadvantages.
"The biggest advantage is that I always have my supplies at hand whenever a student comes in for prep or when my class blows through an assignment quickly," Lynch said. "The bad part is that I don't get to visit with quite as many students as I did before. I liked seeing the students, I liked visiting with them."
_____________________
Words by Hannah Bothner | News and Features Editor