Administration makes decision on lost class time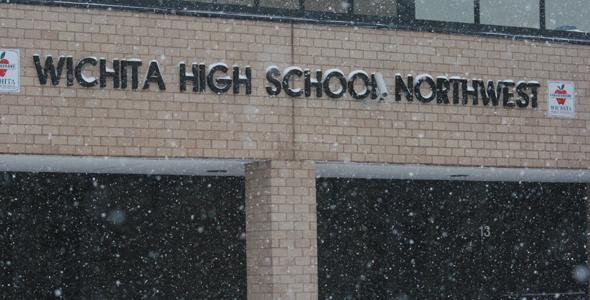 Six days. It was the ultimate gift the USD 259 school district could give to students. But once students trudged back to school and braved the icy roads after first two snow days, then three more, followed by the sixth and final snow day, students and teachers alike were starting to wonder how the district would make up for the lost hours.
Talk has spread of attending school during spring break, starting earlier on PLC late start mornings, and has even gone as far as to include summer days in our schedule. It's been proven in a district-wide email from superintendent John Allison that "all allocated snow days within our calendar" have been used up. But not all is lost.
What it comes down to is what the school's hours are. To make up for a few lost hours and meet the State's quota, the Northwest administration has decided to make second semester finals all day instead of only going half a day. All freshmen, sophomores and juniors are required to attend 1,116 hours in the school year while seniors must be in session for 1,086.
"We are just within wiggle room," principal Karen Pickert said. "It's going to be close."
It's no surprise that after missing so many classes, everyone was starting to feel the pinch. Classes were behind and teachers needed to catch up.
Math teacher Richelle Bloom is a prime example.
"We're behind!" she said. "Some things we've had to slow down because we've had to go back and review on stuff we wouldn't normally have to review."
Pickert recognizes that is it always hard for both teachers and students to get back into the swing of things once returning from a long break.
"That can get a little frustrating at times," Pickert said. "It's just hard to get back in the flow and get things going the way they need to be…for [students] to be retaining and comprehending."
For many, a normal schedule was out of the question once returning from the snow days. Things had to be rescheduled and pushed back another week or two because of the sudden time change.
"It was kind of hard for me because when we came back, I had college visits I had already planned," junior Trekia Nolen said.
In addition to rescheduling college visits, Nolen also had to deal with coming back into her basketball season, be prepared for a game and running on little practice.
"I was kind of out of shape the first game," she said. "Maybe the first quarter I felt it, but after that I felt normal."
At this point, students, teachers and administration can only hope that no more snow days are in the future. No matter how nice they may be at times.