Lack of online self-awareness affects students' futures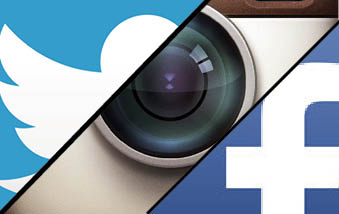 Prepping for college applications or making the dream sports team may be the next step for some after high school. Some students are not aware of the effect their online presence can have on their college plans.  
Students' social media outputs can influence admission counselors or coaches to decline or revoke a scholarship because of what students  post on Twitter, Facebook, Snapchat, Instagram, or Facebook. According to Kaplan Test Prep's 2013 Survey, 30 percent of college admissions officers found something online about an applicant that negatively affected their application.
This is why college career coordinator Danea Cramer cautions against posting questionable material.
"If you're saying you are one thing on an application and then on social media you're being inappropriate," Cramer said "[colleges] probably won't give that money to you because you're not putting yourself in a very good light," college career coordinator Danea Cramer said.
At Northwest, head basketball coach Bryan Chadwick has a Twitter for the basketball team where coaches could have access to a player's social media account. They will soon have an Instagram.
"We are just being smart, being proactive because you don't want that stuff to catch up with you," Chadwick said.
For head football coach Steve Martin, reviewing a student's account can occur when someone brings attention the the issue.
"Those people and myself are looking at their profiles. I have had a parent or another teacher that follows a kid and says 'hey coach, you might wanna look what this guy has on his profile'," Martin said.
There have been parents that have brought attention to what their child or other student's post. Online material considered inappropriate can range from violent to offensive posts or in relation of abusing drugs or alcohol.
"We have a strict drug policy here at Northwest when it comes to athletics," Martin said. "Maybe they might not be a drug user or some of their friends might be, one of the big things is that they tie themselves into it just to try to be cool."
These actions affect everyone in other colleges around the U.S also.
"I have seen it on ESPN  where college coaches have taken away scholarships. There was a kid out of Michigan. There was a kid out of Arkansas.They don't want character issues," Chadwick said.
Chadwick's assertion is true. In 2012, football player Yuri Wright was expelled from Don Bosco Prep high School in Ramsey, N.J. because of racial and sexually graphic Twitter posts. He also lost  his scholarship to Michigan University.
Putting a thought or feeling out there for everyone to see can lead to huge consequences. Junior Samantha Gould has found this out the hard way where she would soon learn to think about posting every thought or feeling on the internet.
"It would turn into a huge mess, Gould said. "I drifted away from a lot of people."
General admission for colleges sometimes do not look into students social media accounts.They just look to see if that student meets criteria, but if they are applying for a private college or a scholarship, they can choose to look up that student to see what they are posting.
"Scholarship money is a gift," Cramer said. "It's nothing you have to pay back. So that can be anywhere from $250 to $2000 or more."
Martin warns against risking this gift for likes or retweets, because mistakes online can be irreversible.
"The Internet is a dictionary," Martin said. "It's an encyclopedia of your past."