The Three Fall Royalty
The three siblings who all won royalty at the fall Homecoming.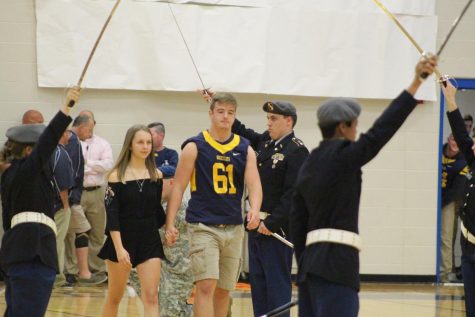 Homecoming, for many, is a chance to dress up and go out and have fun. Dancing and hanging out with their friends can make a special night, but winning royalty can make that night have so much more meaning.
But what if three of the royalty were related? Two seniors, Josh and Katie Carter, and their younger brother, freshman Nathan Carter, all three won royalty of their class.
"It was cool to be nominated," Josh Carter said. " It was a pretty exciting experience."
Katie's reaction, similar to Josh's, was also surprised. Katie was worried that either her or Josh would be crowned royalty but the other would not, losing to another nominee.
" Yeah I was excited I won and that I won with my brother and yeah, I was a little bit shocked." Katie Carter said.
Josh and Katie both say they felt like it had a more special meaning since all three won, but the feeling was not shared throughout the all of the royalty. Nathan Carter feels otherwise.
" [I was] not really [excited], but it did make for some really cool pictures though," Nathan Carter said.
Though they all may not share the same value, the three siblings celebrated by going out to eat together, making the night even more special.