Senior Jake Carter takes the lead as this issue's player of the issue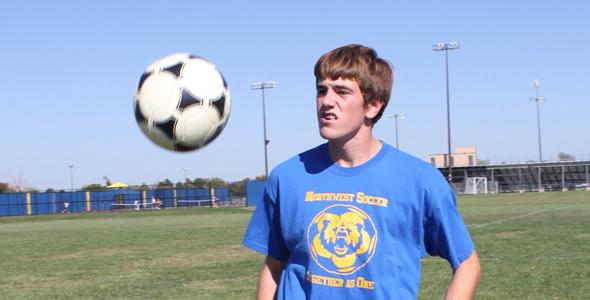 "This year was special," senior Jake Carter said, "it was in the Titan Classic in the final, one to one in over time and we end up going to a penalty with coach having me kick in the last one. So then it all comes down to me to kick in this penalty. I just step up and kick the ball into the net and we win the game. It was a great feeling to make that score."
Last year, the Northwest soccer team proved themselves worthy of being the best of the best by going undefeated. Although the team lost some of its talented players, they are still a strong team. One player that stands out among them all is Jake Carter.
"He always gives a hundred percent no matter what the score is," Head coach Bobby Bribiesca said, "and he has been dependable for the past four years."
Carter has been playing soccer now for 11 years; this alone shows his dedication to the sport. Because of the experience he has received in the time he has played soccer, he knows where his skills lay.
"It's the greatest sport in the world," Carter said, "It requires a skill that not many people have and I just tend to be really good at."
Those skills have gotten him to where he is today in soccer, but to Carter, the sport isn't about him.
"It's a team sport," Carter said, "everyone has to work together to play well, and I enjoy seeing that."
Currently at press time, the team's record is 8-4 with four games left in the season until regionals. Ultimately Carter feels that they have a good team with a lot of skill, and he looks forward to his last year on the Northwest soccer team.
________
Words by Julia Blasdel|Editorial Cartoonist