Culinary classes offer students meal options during lunch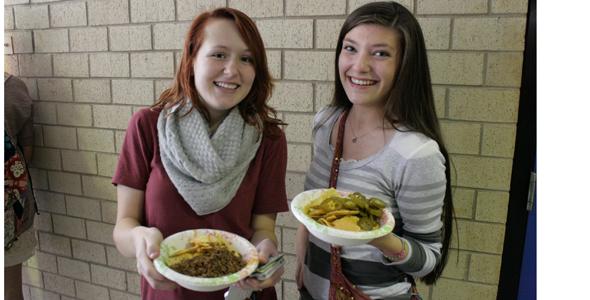 Throughout the year, FACS teacher Alison Draut and her Culinary Applications classes will hold  food sales during lunch, giving students more choices other than the ordinary school lunches. So far, they have sold nachos, and gave students the option to have beef for an extra dollar or jalapenos for a quarter.
"The money we raise goes to pay for the ingredients and it goes to the program," Draut said, "it does not go to the students or myself."
Draut has been doing this for a few years, and while she oversees it, it is student led.
The students "get to decide what food we actually get to make, whether it be a typical sale here during lunches or whether it be a catering event." Students make the menus, create the portion sizes and figure out how much a single portion would cost with the ingredients used. The experience is designed to help them gain background knowledge for when they go into their culinary career.
Even though this is mainly for the Culinary Applications class, all of Draut's culinary classes lend a hand towards cooking. A few of these students are Tiffany Metcalf, Garrett Bump, and Shireff Mitchell.
"Cooking's been something I've been interested in for a long time, so that's why I've started to take more cooking classes," Bump said.
Like all groups, there are bound to be difficulties. Among the top three, according to Draut and her students, are teamwork, understanding portion sizes and self-motivation. Both Draut and Metcalf believe that sometimes students have a difficult time working with each other.
"Teamwork [is a big problem] because people butt heads a lot," Metcalf said.
One example she mentioned was that many people want to help with the sales, but some people need to cook. On the topic of self-motivation, Draut said that "if you're not going to do something now, there is probably three other people in [the] kitchen who are overwhelmed, at the moment, you need to understand that you are part of this team and you need to help them." Portion sizes also seem to have become a major problem."Portion control is always going to be a problem in restaurants," Draut said. The portion sizes make a big difference in the restaurant business, especially in the cost of the food, for both the restaurant and the customer.
"They will have the portions set out for first lunch. Whether they get to have food during second as well this time depends on if we sell out during first lunch," Draut said.
________
Words by Alex Zeorlin|Reporter