building subs a regular fixture at northwest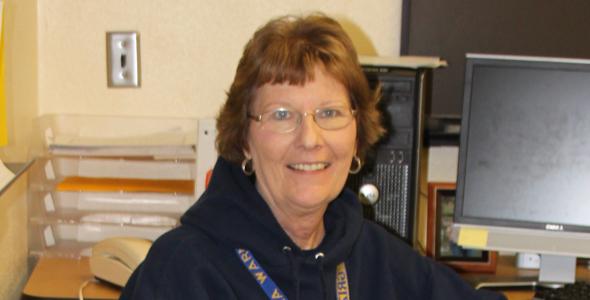 The "woo-hoo" feeling that hit students once they walk into class and realize their teacher is missing and in her place is an unfamiliar face. Immediately everything changes, as if the class was raised by a pack of wild wolves; a substitute teacher's worst nightmare. Rules, manners and expectations we are taught each year are thrown out of the window within a matter of minutes. For years, substitute teachers have been disrespected and gone without recognition for their hard work. Building substitute teacher Barbara Warner, a familiar face seen regularly around the halls of Northwest knows the pros and cons of subbing. She has experienced really good days and then there have been bad days. Many of us know her name and recognize her, but fail to care. There is more to Warner then substituting.
Warner grew up in Ohio, wedged in between her brother and sister as the middle child. Warner reminisces growing up around family and friends.
"Ohio was really fun, I remember spending time on grandma's farm," Warner said.
After graduating from an all girls high school, Warner attended Ohio University where she met the love of her life, her british husband.
"It wasn't love at first sight," Warner said. "I actually hated him at first, it took a while before we did end up together."
Warner attended several colleges before graduating with her master's at Indiana University. Aside from spending time reading and studying in her spare time, she enjoyed playing sports in college.
"I played a lot of power volleyball and softball, up until I got too old to play," Warner said.
Warner along with her husband and two sons lived in several states before settling down in 2001 here in Wichita, where her husband had taken a job. Warner's original plans never included becoming a substitute but with a major in English, and a background history of teaching she sort of fell into it.
"It was the luck of the draw," Warner said.
Aside from spending her days at school, Warner does have a life outside of teaching and reading for fun. Warner loves spending time with her four grandchildren while anticipating her fifth grandchild's arrival.
"I really enjoy gourmet cooking," Warner said. "My favorite things to cook are weird, like lamb, seafood and pasta, anything. You name it."
Warner reminds students that they should be polite to substitutes and to remember that they, too, are real people.
"Remember to be respectful," Warner said "we're just doing our job."
________
Words by Brittney Langston|Reporter