Football eyes state title
"State or nothing": a motto the football team follows this year with the hope of winning state. Having an undefeated season and a city league win, the football team is officially in the playoffs. According to high school sports reporter for the Wichita Eagle, Hayden Barber, Northwest is predicted to take the state championship this year.
Week nine, October 26, Northwest played their first team of playoffs, Salina South. They have a record of 1-7 and Northwest won with a final score of 58-24. This week for regionals, Northwest is predicted to win against Emporia, with a 4-5 record. Northwest is predicted to beat Bishop Carroll, with a record of 8-2, in sectionals. For substate, Northwest is predicted to go head to head with Maize with their predicted record of 10-0. Once and again, Northwest is predicted to win and will be placed in the running for the state football title. This could be the first Northwest football state championship.
.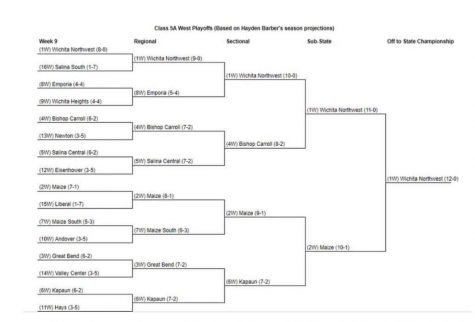 Students are invited to come and help support the team by cheering in the student section and participating in themes. The theme for week nine was costume party. Students came dressed as their favorite characters, animals, food and lots of other creative ideas. For regionals, the theme will be pajama party, sectionals will be ugly Christmas sweaters, substate will be jersey night and the state game will be blue and gold