The Thunderbird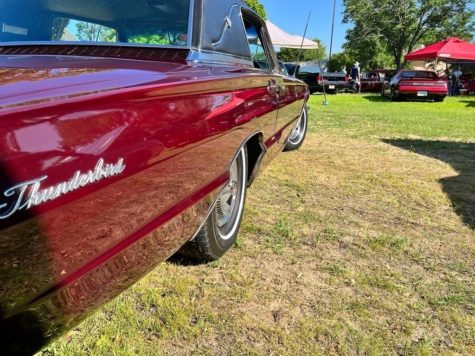 One of the first things teenagers need once they enter high school is a ride. Everyone wants to have one of their own, some just get a hand-me down, others get some brand new. Jackson Miller (12) has a more interesting story, he rebuilt his car from scratch.
What type of car do you have, and could you describe it?
It is a 1966 Ford Thunderbird personal luxury vehicle, with a 390 V8. It's a painted a dark red and still has its original coat of paint on it. I personally think it's the best car at this school frankly. Old and reliable, unless there's snow.
How did you get this car, what's the story behind it?
I saw it on craigslist a couple years ago, all broken down certain parts of it missing. It was my dream car so I talked with my parents about it, and I had been saving up money. They drove me out there, when we got there the dude let us fire it up and check out everything. After confirming it was running, I gave him the cash, and drove her home.
So how much rebuilding did you have to do, repairs, just everything in general?
First we had to retune up the carburetor, after that I've rebuilt the brakes, and transmission, and now I'm working on rebuilding the suspension.